About Us
About Us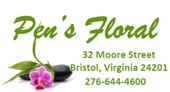 Pen's Floral . The shop is located in historic downtown Bristol in the old Smith Floral location. We are a full service florist who serves the greater Bristol area, Abingdon, and many surrounding Tri-Cities locations.

Whatever your flower needs may be, you can count on us to provide the ultimate floral experience. We strive to be known for our quality, service, presentation and dedication to meeting the needs and expectations that our customers deserve.
Pen's Floral
32 Moore St
Bristol,VA 24201
---
Additional Information:
Our shop is open from 9:00 a.m. to 4:00 p.m., Monday through Friday. closed Sat/Sunday.
Contact Information
If you have any questions or need more information, please contact us directly at (855) 339-2460 or email us at pensj635@yahoo.com. We're always here to serve you and make your flower-sending experience a pleasure.

Pen's Floral
32 Moore St
Bristol, VA 24201
Areas Served
Our shop serves the following areas: Bristol, VA - Bristol, TN - Abingdon, VA - Blountville, TN - Bluff City, TN Damascus, VA

We also deliver to the following facilities:
Garrett Funeral Home
Blevins Funeral and Cremation Services, Bristol, VA
Akard Funeral Home Bristol, TN
Weaver Funeral Home Bristol, TN
Oakley-Cook Funeral Home Bristol, TN
R. A. Clark Funeral Service Bristol, TN
Farris Funeral Service Abingdon, VA
Frost Funeral Home Abingdon, VA
Tetrick Funeral Home Bluff City, TN
TriCities Funeral Home Blountville, TN
Bristol Regional Medical Center Bristol, TN
Johnston Memorial Hospital Abingdon, VA

Also all local nursing homes, rehabilitation facilities, businesses and cemeteries.

Local schools we deliver to include:
Washington Lee Elementary
Bristol Tennessee City Schools
Virginia High School
Bristol Virginia Public Schools
Sullins Academy
Virginia Middle School
Holston View Elementary School
St. Anne Catholic School
Stonewall Jackson Elementary
Joseph Van Pelt Elementary School
Vance Middle School
Anderson Elementary School
Tennessee Avenue Christian Academy
Highland View Elementary School
Morrison School
Tennessee High School
High Point Elementary School
Wallace Middle School
Fairmount Elementary School
Haynesfield Elementary School